Add a free clock to your print
We can add a clock to your print mounting for an additional $25. Please explain in the special instructions box where you want the clock located on your print. If you want a number dial digitally added to your image, explain the font style and diameter of the face. We can add clocks to any of these mountings on MightyCore: Gallery Wrap Elite, Box Mount, Flat mount, Floating mount, Metal frame, Hardwood frame, and Photo cube. The Box Mount style can be make to sit on a table if at least 3 inches deep.
Clock specifications
Our quartz clock movements run on one AA battery (provided) and are accurate to one second per day. Clock movements are guaranteed for 10 years. You can choose any of the clock hand styles shown below. We can cut any of the hands to be shorter. Style number 9 is brass; the rest are black on one side and white on the other and can mount either side up. The hands could be spray painted to any color.
We ship the hands separately with clear instructions on how to attach. Assembly takes just a few minutes. Note that we do not provide a cover for the dial so you will have to clean the hands occasionally and they are not protected from physical damage. If hands do get damaged you can bend them straight or we can send new ones.
Ordering
For this initial offering for a free clock added to your regular cost print, you will not see any options to select when checking out. Just explain what you want in the special instructions box or send us an email.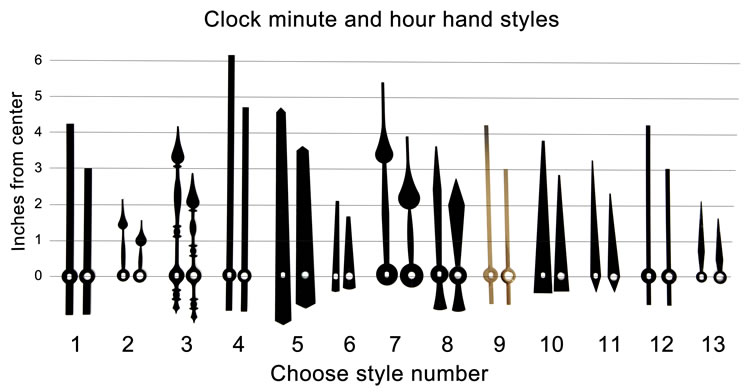 Optional clock dial image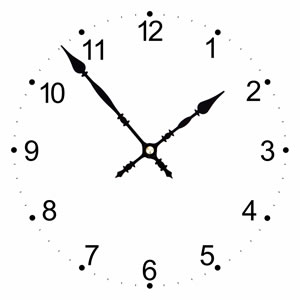 We can add a clock dial to your print at the location you select. We will change the size to match any of the above hands and we can customize with different fonts and leave out the dots and/or minute dashes. The dial can be transparent so your photo or art will show behind the dial. The dial numbers and marks can be any color. Explain what you want in the special instructions box. Click image for large view.