Warning: You need to enable cookies in your browser to upload images and add to cart on this site.
Warning: You need to enable Javascript in your browser to upload images and add to cart on this site.
Your photos and art on Canvas and Fine art paper
A triptych is print made from three separate images and hung together. Click for more on our image restoration services.
Make lasting memories with museum-quality prints from your own photos and artwork. We specialize in glassless mountings that you will enjoy viewing without reflections and glare. View examples
Why Redipix.com?
Small lab with personal service
Professional image editing
Run by photographers
Innovative mounts
Custom sizing to 1/16 inch
Gallery wraps on Ryno Board
SmoothPhotoCloth wraps
Wide variety of archival materials
Protective coatings
Free proofs
Certificate of Authenticity
An experienced professional photographer/printmaker at Redipix.com will prepare your image in Photoshop then print and mount to your specifications. Click the corner samples above and below for detailed views.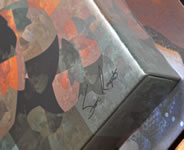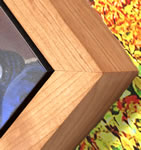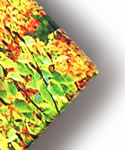 Our pigment inks, archival paper and canvas, protective coating, and museum-quality mounting insure that your treasured print will last for many generations.
Product news
We have been working hard to bring you new and innovative products that you will find nowhere else.
Photo lamp shades at our companion site
SmoothPhotoCloth fabric
The canvas for our Gallery Wrap Elite folds into the corners and wraps around the back
Our Gallery Wrap can now set into our metal and wood frames with any of our print media!
All mountings are on the very sturdy 1/4" Ryno Board
We provide a free Certificate of Authenticity for all prints
Photos of prints and Customer feedback
"Just received the two prints, absolutely WONDERFUL. Now I will start working on more. We think they are just perfect !!!! Thank you so much"... Richard Thierry
Canvas Box mount
This customer's digital photo was printed on canvas then dry-mounted to the front of a black box with no border showing from the front...more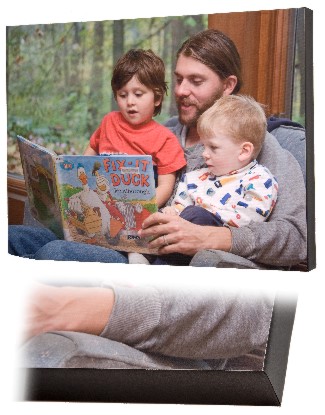 Photo by David Elmore
Gallery Wrap Elite on canvas
This 20x30 inch canvas print is mounted on a 3-inch deep Ryno Board box so that the canvas wraps around the sides. Click to see corner large. Read more on our Gallery Wrap Elite and on artwork reproductions.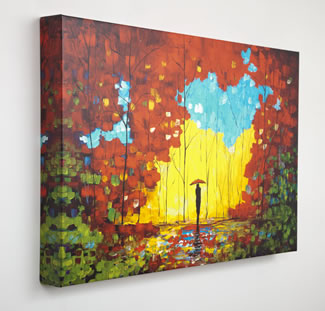 Painting by Kelly Gentry
"Just when I thought the world of Giclée/Fine Art printing had gone totally mad, I found Redipix.com. They offer a quality product at a very reasonable price and a customer service second to none. Their ordering process is well thought out and offers a lot of freedom when it comes to choosing a print size, instead of a limited set of print sizes to choose from like so many other print labs do. So I feel fortunate to work with Redipix.com and hope we do business together for many years to come"... Carlos Lazurtegui
Fine art print on Box Mount
These 12x18 print on Elegance Velvet fine art paper was dry-mounted onto black acid-free Ryno Board and made into a box...more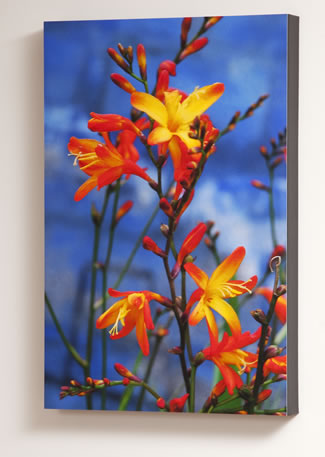 Photo by Whitney Vann
"The prints are fantastic--thanks so much for your guidance. I will be uploading more photos in the near future. Thanks again,"... Steve Rayme
Floating Mount
This floating mount is 26x46 inches. The front face is 2 inches from the wall. The print is on Lyve Canvas and it wraps around the edge of the Ryno Board...more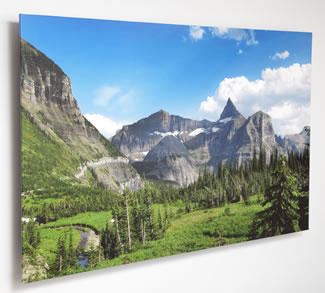 Photo by Robert Grimes
"Discovering RediPix has been a step in the right direction for my portrait studio business. I know that when I receive a print from RediPix, it will display not only my own composition, but a personal touch and attention to detail from the printer, enhancing the final product. I have the confidence that the files sent to print will be reviewed, and I will be contacted before printing if there are any concerns. I have appreciated the personal involvement you have had in developing a professional relationship with my business. Redipix has earned my trust and my custom printing business."... Christopher Wells Photography
New customer special!
For a limited time, first-time customers can receive a discount on Gallery Wrap or Box mount prints! Check out our Discounts page.