Gallery Wrap Elite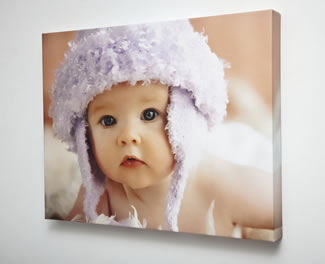 Photo by Ona Sidlinger
Your photo is giclée printed on Canvas or SmoothPhotoCloth and wrapped around the sides making a Gallery Wrap that will look great on your walls without a frame. Our innovative mounting is light but sturdy and loved by all (see reviews).
Wraps with other mountings
We also wrap the print with these mountings: metal frame, floating mount, flat mount, dazzle, and gallery wrap kit. Some of these we can wrap with paper as well as cloth.
Be creative with the sides
Order nowOur Photoshop artist prepares the sides for you with your choice of eight options or a combination of them. Sides can be as deep as 4 inches! Letting the image wrap to the sides often crops the photo too much as viewed from the front. In this case we recommend a mirror image of the border of your print. Solid color sides or a blurred image are also good choices. Some of our customers design original borders using a repeating small image that goes all the way around.
Advantages over stretched canvas
Redipix Gallery Wrap Elite
Pigment inks on quality canvas or SmoothPhotoCloth.
Print is supported so stays flat
All archival materials (no wood)
Protective coating
Any size up to 32x44 inches
Depths up to 4 inches!
Sides can be your image, solid color, cloned from the front, or mirror wrap. See 8 examples
Frame-look, mat-look, and many other borders available
We dry-mount your print to to sturdy 1/4 " acid-free MightyCore board which will not dent or warp. Compare to canvas stretched on a wood frame in the table below. If you want a large stretched canvas, check out our Gallery wrap kit.
Great value
We have no fee for extra options, no set-up fee, no minimum order, no fee for standard editing, and no fee for proofs. Ordering is easy for first-time visitors and for professional photographers! We can print any size up to 32x44, panoramas, square, black and white, sepia, painting effect -- tell us what you want! And don't miss out on our discounts.
SmoothPhotoCloth for Gallery wraps
SmoothPhotoCloth has a smooth texture compared to the coarse weave of canvas. If you don't want the texture of canvas to interfere with the details of your photo, then choose SmoothPhotoCloth! Available with either matte or gloss finish.
Compare

Gallery Wrap Elite

Stretched canvas

Are all materials acid free?
Yes
Wood contains acids that will eventually yellow the print
Is the mounting easily damaged?

| | |
| --- | --- |
| | Supported by MightyCore, you can stand on the print! Click to see big. |

The sides are strong, but the print is unsupported and easily damaged in the middle
With no glass cover, can the print be damaged by a sharp object?
Yes
Yes
What depths are available?
1" to 4" in 1/4" increments with a small price increase
Few depths available with a large price increase for deep ones
What print media are supported?
Artist canvas or SmoothPhotoCloth
Only artist canvas
Will humidity affect the print?
No, print is protected by coating on the front and waterproof MightyCore board on the back so it will not warp
Humidity reaching the print from the back may cause the print to sag and the wood to warp
Is editing such as color correction, cropping, brightness, sharpening included in the price?
Yes

Many labs don't support these features and don't reveal their source of coating and canvas.

Be sure to ask your photo lab about these before placing an order for stretched canvas.

Our Gallery wrap kit is stretched on wood bars and matches all these advantages of our our Gallery wrap elite

How many options for the sides?
Eight plus combinations
What coating protects the print?
A heavy matte or gloss waterproof coating of Glamour II stops damaging UV light and allows cleaning with a wet cloth
How well does it hang?
Our hanging wire pulls the print tight to the wall
Will the print stay straight on the wall?
Yes, we supply four glue dots for the corners
Will the canvas yellow from aging optical brighteners?
No, our Lyve Canvas from Breathing Color has no optical brighteners
Do the edges or corners crack or look sloppy?
No cracking and the corners look perfect
Masterpieces from your snapshots
Based on your notes, an experienced Photoshop professional will improve exposure and contrast, remove red-eye, remove scratches and tears, fix color problems, crop, remove blemishes and distracting background objects. We can also convert to black and white, add sepia tone, and add artistic borders and paintbrush effects. Place those cherished photos on the wall where you can enjoy them! ...more