Warning: You need to enable cookies in your browser to upload images and add to cart on this site.
Warning: You need to enable Javascript in your browser to upload images and add to cart on this site.
Box mount / Standout prints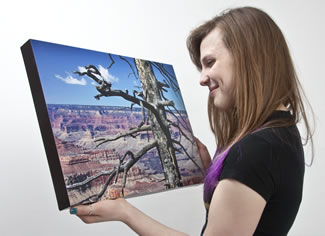 Photo by Emily Elmore
We developed the box mount, also known as a standout, as an elegant and affordable method to display prints. This mounting works especially well with our fine art papers which cannot be used with gallery wrap.
Features and options
A Ryno Board panel keeps the print flat
The coated black paper surface of the panel shows on the sides to frame the print.
We can print on canvas, fine art paper, luster photo paper, and metallic photo paper.
We can mount your print that you print yourself or obtain elsewhere and ship to us.
The print dimensions can range up to 32x44x2 inches.
The depth of the box (distance it stands out from the wall) can be varied between 1 and 4 inches.
Because it is hung from a wire loop on the back, the box is held tight against the wall.
Sides can be black or white (we recommend black).
We can print a mat-look, dark or light vignette, or other types of borders.
We can divide one image into several prints that, when hung together, look even better than one very large print. See below and learn more here.
We can sell you a Box Mount Kit with a pressure sensitive adhesive on the front so you can mount your print yourself.
We can add a clock anywhere on the face of the print.
In both cases the prints are mounted on a Ryno Board panel that is almost indestructible
Gallery wraps cannot be printed on Fine art paper; any of our papers or cloth can be used for Box Mount
With Box Mount, the sides are the coated acid-free paper surface of the Ryno Board instead of the print medium
The sides are black or white whereas for Gallery wrap the sides are printed with options
Box mount is less expensive.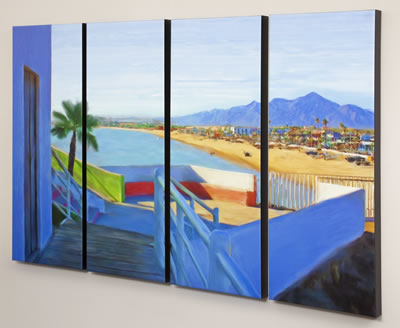 Photo by Robin Waters. Click to see larger.
Why Redipix.com?
Small lab with personal service
Professional image editing
Run by photographers
Innovative mounts
Custom sizing to 1/8 inch
Gallery wraps on Ryno Board
SmoothPhotoCloth wraps
Archival long lasting materials
Protective coatings
Free printed proofs
Certificate of Authenticity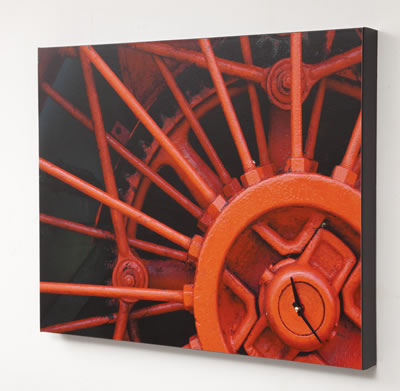 Photo by Satya Banga. Click to see clock detail.
Photos of prints and Customer feedback
"Redipix is a wonderful on-line system for hobbyists as well as professionals to use for getting top-notch prints. The unique mounting system (with hardware included!) affords both the amateur and the entrepreneur a great way to show their clients or friends their work. The box mount design in which you offer a variety of print mediums; like photo paper, fine art, or canvas, allows the photographer to really display his or her work in its best form. I can't say enough about the quality and care taken to make each work a piece of art. Every photographer once trying this concept will surely be a return customer, as I know I am. "... Kenneth Wier
Box mount with no border
Here you can see the handsome look of borderless with black sides. This has the same ready-to-hang appeal as Gallery wrap but you end up with a larger print since the paper is not used on the sides. This giclée image was copied from a large original drawing then printed on fine art paper.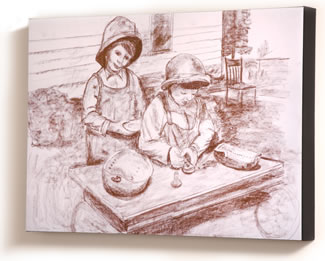 Drawing by Darlene Mitchel
"I loved the pictures!! The quality was great and they got to us in less than a week. I was very pleased with the service and quality. I will be ordering more pictures soon!" ...Kimberly Pereira
"Received the prints today...beautiful, just what I wanted. Thanks. I do like the box mount...very unique. Again, thanks a bunch. Hope to use your service again soon." ...Christine Witucki
Box Mount with white sides
"..And they're beautiful!! - Thank you so much for all your caring -- I think my favorite is the "Lighthouse Painted" in the box mount -- I knew I loved the gallery wraps, but wasn't sure of the box mount -- and it's great!! -- and I'm VERY pleased with the portrait - WOW!"... Robin Waters
"Here is a photo of the hung pictures on our basement wall. They are the focal point of the whole room. Your professional work is outstanding and I also much appreciated the instructions and hanging mounts that accompanied the photo set. Thank you "... Lloyd Weaver
Box Mount Clock sits on table
This clock will sit on the table or hang on the wall.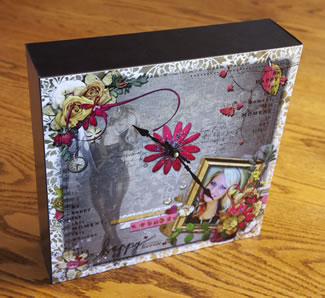 Artwork by Lori Charette. Click for detail view.
"Yes sir, it most definitely met my expectations. I am real pleased with the results of both of my orders up to this point. I am also encouraging both friends and family to take advantage of your services, as I am sure they will be pleased with the results as am I. You will be getting another order from me here shortly. I want to try a little bigger canvas for my living room. As soon as I get the picture the way I want it I will be putting in another order. Again, thanks a lot for all you do. I appreciate it." ...Mike McCormack
Back side of Box Mount
The Box mounting is constructed with strong acid-free 1/4-inch-thick Ryno Board to keep the print flat. All prints are provided with hanging wire, hook, and nail. The free Certificate of Authenticity has hanging and care instructions, warranty, and information about print and image.
Click to see large corner detail.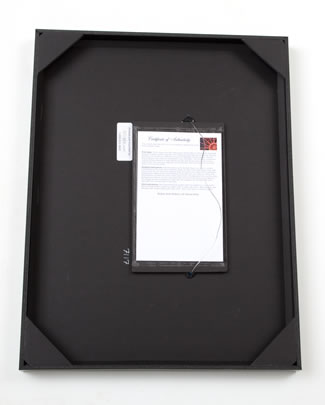 New customer special!
For a limited time, first-time customers can receive a discount on Gallery Wrap or Box mount prints! Check out our Discounts page.