Warning: You need to enable cookies in your browser to upload images and add to cart on this site.
Warning: You need to enable Javascript in your browser to upload images and add to cart on this site.
Floating mount
Photo by Linda Clifford
Wrap print around the sides to hide the edge of the mounting board
Use mirror wrap to extend the image for the wrap
Use any of our six print media, even with wrap
We apply the usual heavy protective coating, either matte or gloss
A hanging wire on the back holds the print tight to the wall
The depth to the wall can range from 1 to 4 inches
The size can range up to 36x48 inches
We developed the Floating mount as an elegant and affordable way to display prints. Like our Gallery wrap and Box mount products, the prints are dry mounted to MightCore board.
The foam interior core of the black Ryno Board can show around the edge or we can wrap any of our print media so the edge does not show (example to the right). The print is suspended off the wall by a hidden black box on the back which keeps the print perfectly flat. A hanging wire is provided on the back to pull the print tight against the wall.
If you like the "pillow look", we can insert a 1/4" layer of soft foam behind the print.
These prints can be larger than the similar Gallery wrap and Box mount prints, up to 36x48 inches.
The depth (distance of the print from the wall) can range from 1 inch to 4 inches.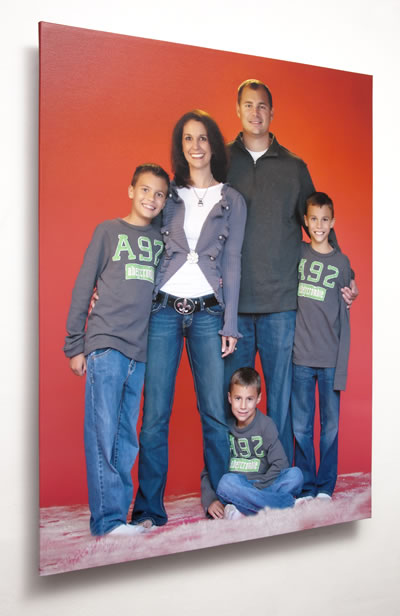 Photo by Audree Garcia
Photos of prints and Customer feedback
"I received the prints last Friday... I have to admit that I was horrified when I arrived home and saw a crushed box sitting on the front steps. But alas, your secure wrapping method saved the prints from damage! The print/mounting craftsmanship was very well done... I am looking forward to continuing to do business with Redipix."... Desmal Purcell
Giclée reproduction floating mount
"I just opened the pictures you guys did for me and I am very pleased. The Pink Moon Rising is just that!!......I love it! Thank you both again for the care and attention that you give to my work. I am so happy! Have a wonderful weekend!"... Kristine Patti
Clock on Floating mount print
We can add a clock to any of our mounts on Ryno Board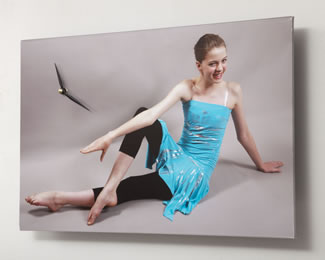 Drawing by Darlene Mitchel
"Hey! Great job all around. Print is beautiful, mounting looks great. It was packed expertly. I really appreciate the certificate of authenticity, too. It's a donation to an art auction, so that's helpful for their records. Good price, great work. I'll definitely keep Redipix in mind for my next printing/framing needs. Thanks."... Alexander Chase
Floating Wrap on SmoothPhotoCloth
"BIG thanks for the great canvas! I received it finally and everyone loved it...Thanks again! "... Christine Cornwell
Floating wrap with SmoothPhotoCloth