Warning: You need to enable cookies in your browser to upload images and add to cart on this site.
Warning: You need to enable Javascript in your browser to upload images and add to cart on this site.
Flat mount - Frame ready prints
Here your print is mounted to very heavy duty 1/4" black Ryno Board which will not warp. If you do not want the sides of the board to show, we can wrap the print around the sides for any of our print media. There are several great ways to display Flat mount prints described below.
Float mounting option
We can provide a hanging wire on the back so you can hang on a standard hook and nail. In this case the print will stand out from the wall about 1 inch. This is very similar to our floating mount but at lower cost and without a full box on the back. It works great up to about a 16x24 inch size. Order now
Picture wall with hook-loop coins
Borderless photos printed on matte paper in the 8x10 to 16x20 size range look great when attached directly to the wall in a group (see example below). A good way to do this is to screw some wood strips to the wall and attach the prints to them so the prints stand out from the wall.  The prints are fastened using hook-loop "coins" that we provide. These can be removed from the wall usually without damaging paint in case you ever want to remove the pictures. We suggest a uniform print size and will give you a uniform placement of coin fasteners.  This way you can easily change out one or more pictures if you want to display new ones. We provide detailed instructions for making your picture wall.
How to display a Flat mount print
Mount several together directly on a wall with provided hook-loop fasteners
Install horizontal wood strips on the wall and mount to them
Place in a frame you purchase elsewhere
Stand to display on a table
Professionals: Make several sizes as shown above to help your clients choose how large to print
Ready to frame
You can purchase a ready-made frame at a local store beforehand and order your flat mount print without wrap to a size that will fit. For the best viewing experience we recommend that you use neither the mat nor the glass that came with the frame. If you want a mat-look border, we can print one for you. Be sure to give us the exact size of the frame opening. We find this option works best for canvas with gloss coating.
Removable blocks
This works especially well if you hang your print in a gallery for sale. Three blocks about 2 inches square by 1 inch deep are attached to the back of your print with hook-loop coins. The top center block has a plastic hanger to hook on a nail. Your customer can then leave the blocks for a floating-mount look or can remove them for framing or for flat-mount on the wall.
Self-standing display

For small prints we will place a folding stand on the back so the print will stand on a horizontal surface. You can select this option before adding to cart.
Quantity pricing
If you want a picture wall with a large number of 5x7 or larger prints, see our Discounts page or contact us for a quote for even lower prices. This will be an especially good deal if the images do not require significant editing.
Photos of prints and Customer feedback
"Yes it exceeded my expectations. I am very happy with how it turned out. I really appreciate the care you put into the quality of my image. I have many more ideas in mind"... Ashley Sanders
Picture wall with 12x16 prints
These photos were printed on fine art paper which was mounted on white Ryno Board, trimmed to borderless, then attached to wood strips using hook-loop coin fasteners. The three horizontal wood strips were 1x1-inch pine that was stained and screwed to the wall. We applied matte coating since there were lights and windows across the room.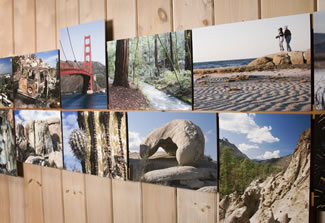 Photos by David Elmore
Fine art prints on Ryno Board
These 13x17 prints on fine art paper were dry-mounted onto black acid-free Ryno Board. They are supplied with hook-loop adhesive fasteners for easy mounting on the wall...more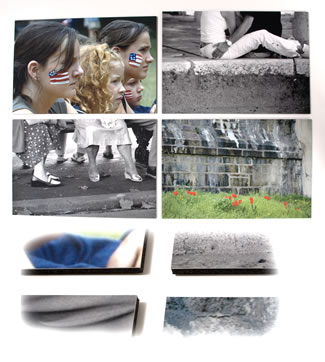 Photos by Steve Rayme
"Very happy with both prints, they looked great and her mom loved it! Thank you for the different samples of the different types of finish. It will make it much easier to just show a client instead of having to explain it. Thanks"... Ty Lyle