X Banner stands
Advantages of the
X Banner stand
ArtRoll prints made to fit
Lightweight (3-4 pounds)
Easy quick setup
64" and 72" sizes available
Low cost
Carrying case included
Present your ArtRoll prints for high-impact display at trade shows and events. This affordable banner stand works beautifully with our ArtRoll mounted prints. Made from carbon fiber and aluminum, it is lightweight and easy to carry and assemble.
Two sizes
For the regular size the top of the print is 64 inches (5 feet 4 inches) above the floor and for the large size the top is 72 inches (6 feet) above the floor. We can make the top lower by cutting off the upper rods. When ordering ArtRoll prints, make sure that the size of the print is within the range of sizes that will fit on the stand (see table below).
Carrying case
The included carrying case holds the ArtRoll print along with the stand.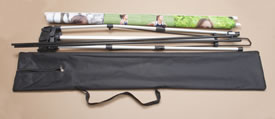 ArtRoll print size range that will fit on X Banner stands

Regular

(top at 64 inches)
Range of width in inches:
20 - 43
OR
43 - 60
Range of height in inches:
10 - 62
10 - 43

Large

(top at 72 inches)
Range of width in inches:
30 - 43
OR
43 - 60
Range of height in inches:
10 - 70
10 - 43