Stretch-roll™ canvas wraps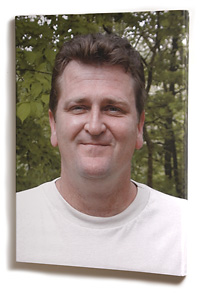 This canvas wrap is 36" high
We have removed this mounting from our standard products, but it is still available on special order. Please call us if you are interested.
This mounting option resembles the Gallery wrap but is mounted in an entirely different manner that works especially well for the largest print sizes. We recommend the Stretch-roll mainly for prints that you will transport such as traveling exhibits and events such as weddings and funerals. If you want a print larger than 32x46 inches (our largest size available with floating mount and frames) for permanent display, then we suggest you purchase a rolled canvas from us and stretch it yourself. Contact us for information on how to do that.
Construction details
The canvas is not mounted to a board nor to a 4-sided frame, but is attached to two rounded hardwood boards on the left and right sides. On the back, two or three metal tube struts hold the boards apart and stretch the canvas.
The image wraps around the left and right sides but not the top and bottom. There is no need for a wrap on the top and bottom since they are not visible when the print is mounted on the wall at eye level. For this reason the boards are on the left and right sides for prints that have either portrait or landscape orientation. More views at the bottom.
Because the top and bottom of the print are not supported, you can expect that the print will not stay perfectly flat over long periods of time. The canvas along the top and bottom may curl out a little in the middle especially for wide prints. That is why for permanent installations we recommend stretching the canvas on a frame.
Advantages of the Stretch-roll mounting
The print comes apart and ships and stores in a tube. It takes less than 10 minutes to assemble with only a screwdriver. This saves the high shipping costs you would have to pay for large framed prints, and they are easy to store and transport.
These prints have the pleasing look of a gallery wrap. No expensive frame is needed. No glare from glass.
The stretching force by the struts on the back can be adjusted. If the print sags with high humidity (a common problem for traditional stretched canvas), just tighten the struts a little more!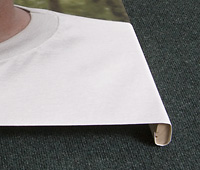 Top and bottom are seldom viewed
Options for the sides
The sides can be part of your image, but if this crops the main subject more than you want, we can clone the background to extend around the sides or we can add a solid color to the sides. See the Gallery wrap page for more details on image preparation.
Assembly instructions
You can download here the detailed and illustrated assembly instructions for Stretch-roll canvas wraps.