Photo Cubes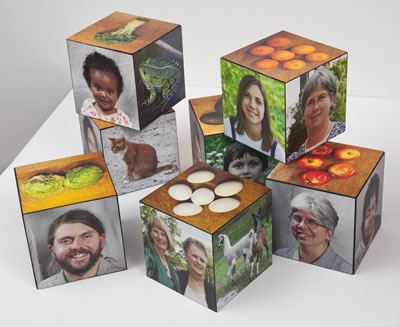 6-inch photo cubes on canvas (Click for detail view)
We no longer offer photo cubes so we can concentrate on our new product, photo lamps.
These are a great gift for children and also are a great way to display photos on your mantle, coffee table, or desk. For toddlers we can provide images as shown for food items, numbers, letters to spell a name, colors, and you can provide photos of family members, pets, and places. We can put different objects inside the cubes so they make special noises when you shake them.Order now
Construction
We recommend canvas but you can choose any of our print media. Photos are on all 6 sides. Prints are normally square, but you can optionally have 2 square sides and four rectangular sides. All but the photo papers will have a heavy coating of Glamour II gloss or matte varnish. Prints are mounted on our super-strong MightyCore board, so a child can sit on them and throw them without major damage. They are not heavy. Materials and coating are non-toxic and canvas is very durable. The dimensions can range from 4 inches to 20 inches.
How to order
When ordering a cube, enter the same value for height and width; for two square and four rectangular sides enter different values for height and width. We will use Width for the square sides and Height for the other dimension (Width could be larger or smaller than Height). Choose the print medium then add to cart. Upload your image files (up to six per cube), choose your other options on this page (just one of the images) then add to cart and checkout. Send us an email with your list of six image file names (or descriptions of our images as shown below) per cube and any other special instructions such as font for letters and photo orientation.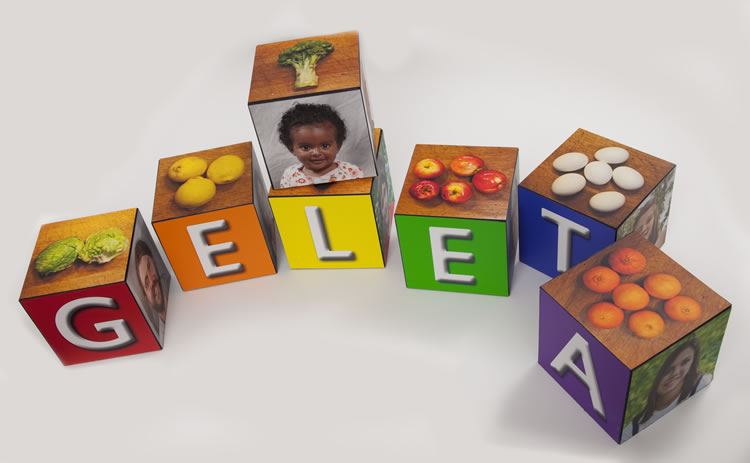 6-inch Photo Cubes for a toddler on canvas (Click for detail view)