Gallery Wrap Kit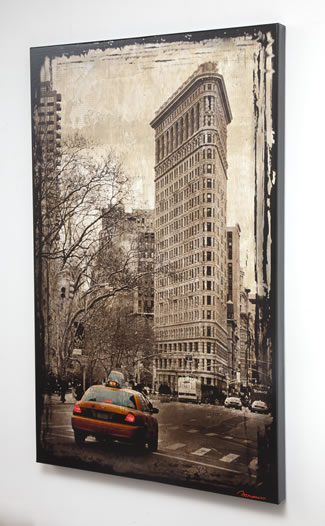 25x40 Gallery Wrap Kit for Tony Monaco (click for detail)
These gallery wraps on canvas look almost identical to our Gallery Wrap Elite; however, they are stretched on a wood frame and so are not supported in the middle. We attach two sides, then cut and mark for the other two sides. Assembly takes only a few minutes and the final product has our usual 100% satisfaction guarantee. Order now
Comparison with Gallery Wrap Elite
We offer our Gallery Wrap Elite in sizes up to only 32x44x2 inches. Above that shipping is very expensive, so we are now offering this kit which ships inexpensively in a tube. The Elite is supported over the whole print by MightyCore board whereas the Kit is stretched on a wood frame and is not supported in the middle. The Kit has corner braces that can be tapped with a hammer to stretch the canvas tight without wrinkles. Both are printed on our premium Lyve Canvas by Breathing Color and have a heavy coat of gloss or matte Glamour II coating. In both cases we can provide any size up to the maximum to a fraction of an inch. The maximum gallery wrap kit size is 40x80 inches. The depth out from the wall is fixed at 1.75 inches. Both products come with a hanging wire and glue dots for the corners to keep it straight on the wall.
Construction
We obtain our wood professional stretcher bars from IG Wrap inc. If you follow that link or this one you can view a video of the assembly; however, note that we have already performed the first half of this procedure. We lay out the bars then connect two of them and trace around the other two so you will not need the red corner jigs. We prefer to staple on the back because we do not trust that the adhesive on the sides will last a long time and also the sides look better if they are not cut. The only tools you will need are a hammer and staple gun. We can sell you a staple gun for $10 if you do not have one or you can buy one in any homeowner store. The stapling is easy because the adhesive tape on the sides of the bars holds the canvas tight. You can read our detailed assembly instructions.
How to order
Click on the prices link then enter the size you want in the upper right boxes. Choose the print medium then click on the price to take you to the ordering page. Upload your image file, choose your other options on this page then add to cart and checkout.
25x40 Gallery Wrap Kit back view (click for detail)